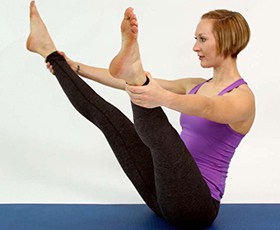 Pilates for Practitioner Workshops
Two Day Pilates Rehabilitation Techniques for Practitioners to confidently apply the exercise prescription techniques for their patients.
Knowledge of the Pilates theory (from "The Pilates Theory Bible ", (e-Book) included in the course, is required prior to the workshop.
Also included are:
A Theory and Warmup DVD and
Workshop e-Manual to be brought to the course
All attendees must be registered practitoners, such as Physiotherapists, Chiropractors, Doctors, Osteopaths, and allied health workers, eg occupational tharapists, Sports Science degree, Advanced Pilates Instructor, etc.
The course covers all theory form a functional point of view for
breathing technique and its effects on exercising,
core control and how to effectively achieve it
muscle isolation techniques for rehabilitation
correct post acute exercise programming
progression of the exercises and how to achieve desired results
 Dates & Locations:
To book a place on any of these workshops in Sydney, Melbourne, Brisbane, Adelaide and Perth please visit our online shop BOOK HERE .
To organise a workshop for your company or a group of practitioners AT YOUR LOCATION, please email our Education Coordinator. A minimum of 8 attendees is required in Metropolitan centres.
To Book Practitioner workshops where we have outside presenters, Please look at Practitioner Workshops
Testimonials:
"Allan is a very professional practitioner who gave 100% of his time and knowledge. He was most approachable and I felt comfortable in asking questions. Learning another perspective on Pilates especially in relation to the management of necks and backs was particularly valuable. I was able to immediately put the principles into practice across the 5 weekday Pilates classes I teach. The feedback was positive. I recommend this course to other Practitioners who want to enlarge their Pilates knowledge"
      Linda W. Physiotherapist
"I would recommend this course for the high quality of information presented, the experience of the presenter. The inspiration and the dynamic energy of the course changes you in a short space of time in a very positive and challenging way"
      Hannah J. Pilates/Gym Instructor 
"Far superior than the DMA course (I attended). It is far more applicable and functional to clients that we see than any other pilates courses"
      Catherine D. Physiotherapist NZ 
"Great practical teaching advice and lots of encouragement"
   Julie H. TAS
"Much better than other Pilates courses – the teacher is aware of how we are absorbing the information and took us further. There is a thorough grounding in new (Menezes Method) basics. I particularly appreciated the immediate response to my own physical concern with a brilliant exercise (the Menezes Back Release)"
Helen S. Pilates Instructor